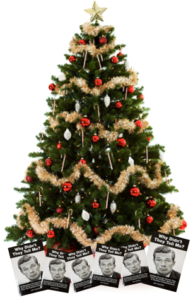 Dear Streetwise Customer,
It's  only a week away, but we can't avoid this for ever, so I'm going to come right out with it. It's not long now until it will be…
"Christmas"
And just like every year for as long as you can remember, you will be desperately trying to find presents for your friends and family which are both interesting and in expensive. If you have young people to buy for…say aged 15-25…or indeed anyone whose career or business could do with a lift…then this could be the solution…
My latest book, "Why Didn't They Tell Me – 99 Shameless Success Secrets They Don't Teach You At Eton, Harrow, Or Even The Classiest Comprehensive" has received rave reviews from readers, and you can read some of those when you click through.
So why not get them something REALLY useful this year? It's not often you get the opportunity to give someone a gift that could change their life for the price of a decent pair of socks!
Best Wishes,
John Harrison